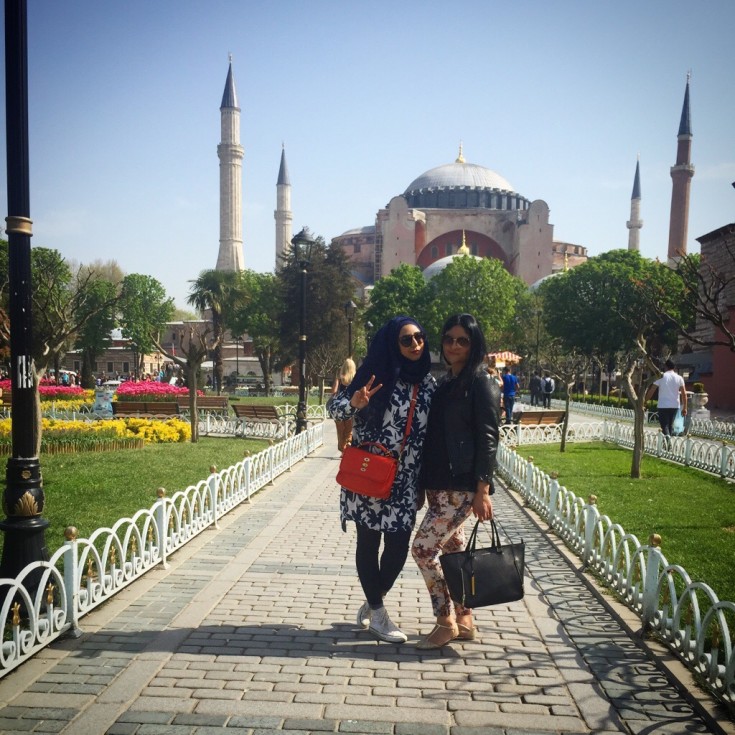 For my 30th (yes I hit the milestone *groan*) me and my friend (who also turned 30 around the same time) hit the beautiful city of Istanbul to make our coming of age memorable.
We only had 4 days there and 3 nights so we had to squeeze as much into the break as possible and also have the time to really soak in the atmosphere and the beauty of the great capital of Turkey.
I booked the holiday via Travel Republic as it was easy and convenient. We chose a small boutique hotel which is walking distant from the Blue Mosque so we can venture out whenever we wanted and spend time just chilling in the mosque or the grounds between the mosque or Aya Sofya, twas beaut!
Anyways before I ramble on the whole point of this blog was to give a few pointers if you're headed to Istanbul or simply considering it.
Booking the perfect hotel and let's get packing…
Many of the hotels close to the Blue Mosque and surrounding areas are quite small and boutique-esque, most don't have the best view unless you climb to the top terraces which will look out to sea or Blue Mosque. If you want some of your more well-known hotels such as Hilton you have to book a little further away but you can always travel in via the Tram service.
We stayed in a little hotel called Tria we did not have a great view but this did not bother us too much as we didn't spend a lot of time in the hotel. It was smack bang in middle of Aya Sofya and Blue Mosque literally 5 min walk from both and upon arrival the staff gave us a map and all the information that we may need and catered the information based on what we wanted to see, we were really keen on Islamic heritage sites.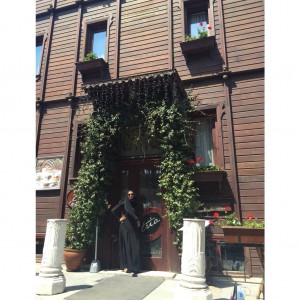 Few tips for packing…
Might be worth taking an umbrella as it can rain randomly in Istanbul we were fairly lucky but we did get spots of rain.
Ladies worth taking your abaya or wear clothes that covers you up as well as a scarf. They do however provide a service if you need, mainly when you visit a mosque.
Museums and Excursions…
The main museums you have to visit are Topkapi Musuem, Aya Sofya, Museum of Islamic Art and Basilica Cistern (only if you're a James Bond fan).
Note some museums are closed on certain days. Aya Sofya is most definitely closed on a Monday so just plan your holiday around this.
I bought a 72 hour museum card which allowed me entry in all but the Basilica Cistern which did not accept the card to enter, but it does not cost a lot to get in.
Topkapi Museum gets extremely busy so get your museum card day before so you avoid the ticket queues and make sure your there for 9am opening so you can walk straight in and get looking around – if you're interested in Islamic heritage then go straight to the room of relics belonging to Prophets and Sahabas (peace be upon them). This room includes Prophet Mussa's staff and Prophet Muhammed's  sword (peace be upon them) as well as Fatima RA's  jewellery box and much more…You will get to view it in peace without great amount of people by getting there early; you can go always go back to start and do the rest of the museum. There is also a very cute little masjid on the grounds if you find it just pop in – so peaceful.
Museum of Islamic Art has beautiful Qurans and relics belonging to Prophet Muhammed (peace be upon him).
Aya Sofya is simply breath taking with one of the most beautiful pulpits I have ever seen. Be careful as you climb to the second floor it can get slippery…comfy shoes to get around is a must as you will be doing a lot of walking.
Basilica Cistern I found a little scary and strange with the Medusa head columns an 'all but if you're a fan of James Bond – I believe a scene was filmed in there, so you may want a look-see.
As we're doing film references Taken 2 was also filmed in Istanbul and you will recognise some spots.
You cannot go Istanbul and not book yourself a trip to see one of the most beautifully wood crafted Ottoman palaces ever – DOLMABAHÇE PALACE – it is grandeur at its best and boasts the World's largest chandelier gifted by Queen Victoria herself and it's 4.5 tonnes — wooohhh!
Finally take a trip over the Bosphorus Bridge that connects Asia and Europe, travelling two continents in a day!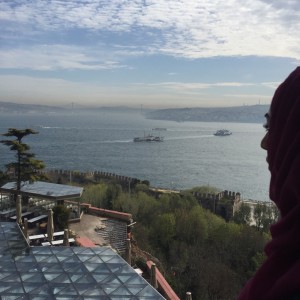 The Mosques…
There are many beautiful mosques you must visit in Istanbul:
Sultan Eyub Camii (Mosque) this is where Sahaba Hazrat Eyub (Ayub) Ensari's is buried.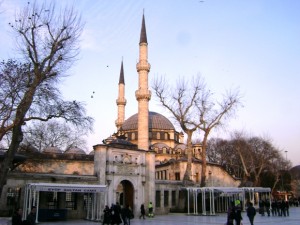 To find out where other sahaba' are buried click here.
Suleymaniye mosque a beautiful mosque slightly further out from the main tourist area of Istanbul.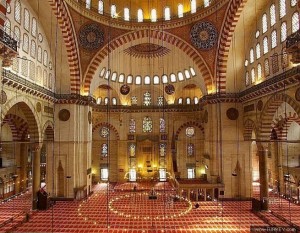 Sultanahmet mosque which is the most famous Blue Mosque.
Sokollu Mehmet Pasha Mosque not that far from Blue Mosque and a beautiful little abode where you can hear children praying Quran.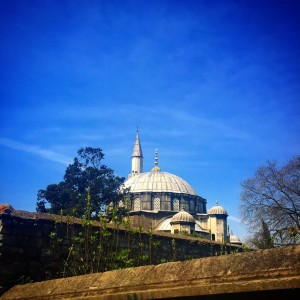 To see more masjids click here.
Final one – enroute to the Grand Bazaar you will spot a fairly new masjid, pop-in it's very pretty with powder blue carpet…
Shopping and Food-lings…
A number of places to shop in Istanbul – although I didn't really go out there to shop.
Grand Bazaar if you're prepared to fight through some crowds and make sure you get your haggle hat on and get some money knocked off **caution this can be a serious harassment spot**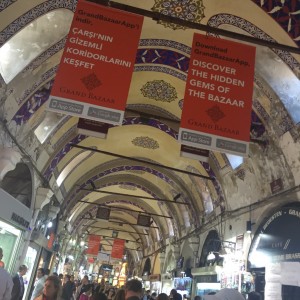 Spice Market – with a scent of beautiful spices this is a lovely market to check out!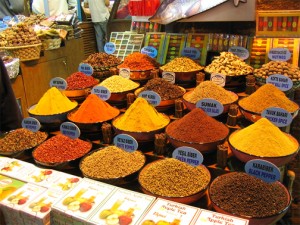 Taksim Square  for the more modern shopper, we decided to skip this one but were told that by night time the atmosphere is great – we just weren't convinced it was worth the trip.
Near to Blue Mosque and Aya Sofya take a walk around and you will find plenty of food joints, places to relax or a cheeky dessert and coffee – as recommended by a friend we popped into Mado. Not forgetting the great street food outlets, for a bite on the go…
Relaxation
A must while in Turkey is to experience the traditional Turkish bath and where better to go then in-between the Blue Mosque and Aya Sofya, where they have the oldest hamam which was fit for the Sultans and their wive's and now also  a regular retreat for celebrities alike. It is absolutely beautiful inside and smells just as good The Aya Sofya Hamami is simply stunning. You will leave feeling refreshed and smooth.
Overall Istanbul was one of the best places I have visited, lovely people and fabulous aura. You will hear scare stories about scams but as long as you keep your wits about you, you should not have any issues.
Don't forget to get your visa before you travel. Alway book the visa via the official government site.
PSSST Ladies just ignore any harassment just play oblivious and if you're in abaya you may find yourself being photographed by other tourists!
Hope this helps if there is anything I have missed off…please comment below! Some extra pic's…peace!