I was blessed to be invited to visit Jerusalem for the third time. During Ramadhan I made the intention to try visit for Eid ul-Adha. I can say now intention was fulfilled – Subhan-Allah!
Eid in Al Quds was absolutely amazing, the Al-Aqsa compound is full of people being joyful and all dressed up in the best of clothes they own to begin the three-day celebration of Eid ul-Adha. Yes, they really do celebrate the full three days too.
As the takbeerat of Allah-hu-Akbar, Allah-hu-Akbar rings out throughout the Old City in Jerusalem, you can feel the buzz of excitement, with random people greeting you and asking where you are from to people handing out gifts and sweets to happy little children.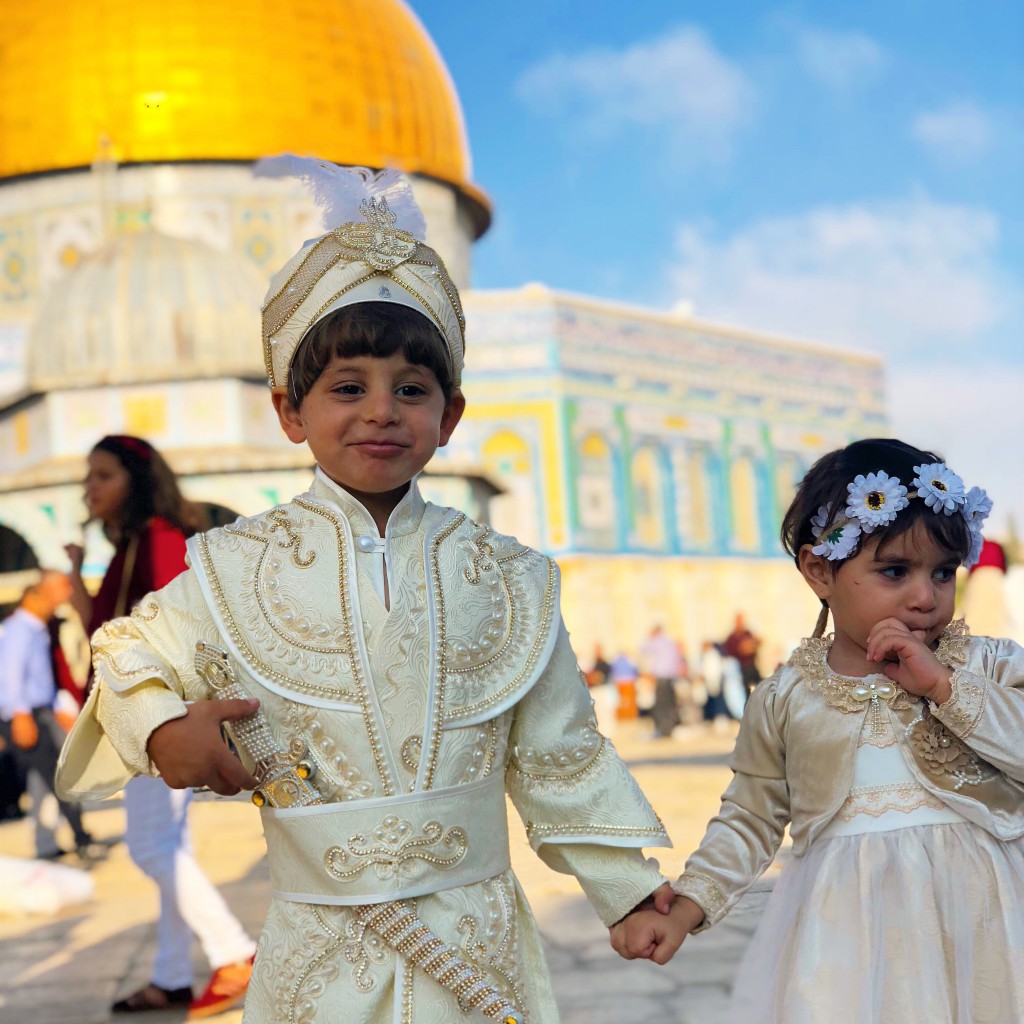 People taking selfies as it is the first time they are able to visit Al-Aqsa even though they live so close, capturing every moment, every step, every memory of laying their foot where a Prophet (May Allah be pleased with them) has stood.
It was a warm day, we most definitely had not got used to the heat even though we had left behind similar temperatures in England, at 30-35 degrees, the Dome of the Rock was heating up, we decided to take our prayer matts outside and find a spot under the Dome of Chains. In the shade of the dome we people watched and soaked in the atmosphere around us. Feeling blessed to be walking in the footsteps of so many Prophets, it was amazing to take a few minutes to soak in hearing the Lord be praised while people celebrated.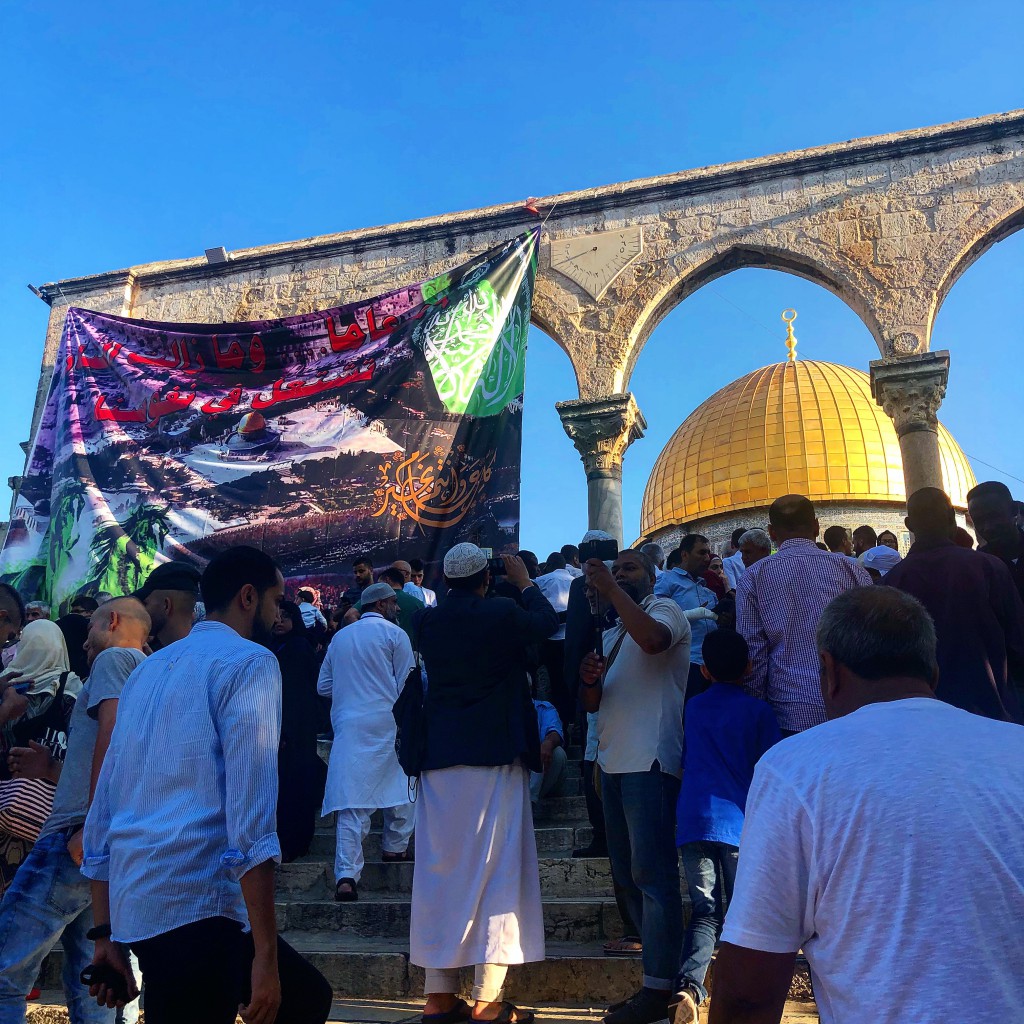 I decided to wear my Palestinian tatreez embroidered abaya in order to represent the local traditions and it didn't go unnoticed with people showing their appreciation of representing their culture.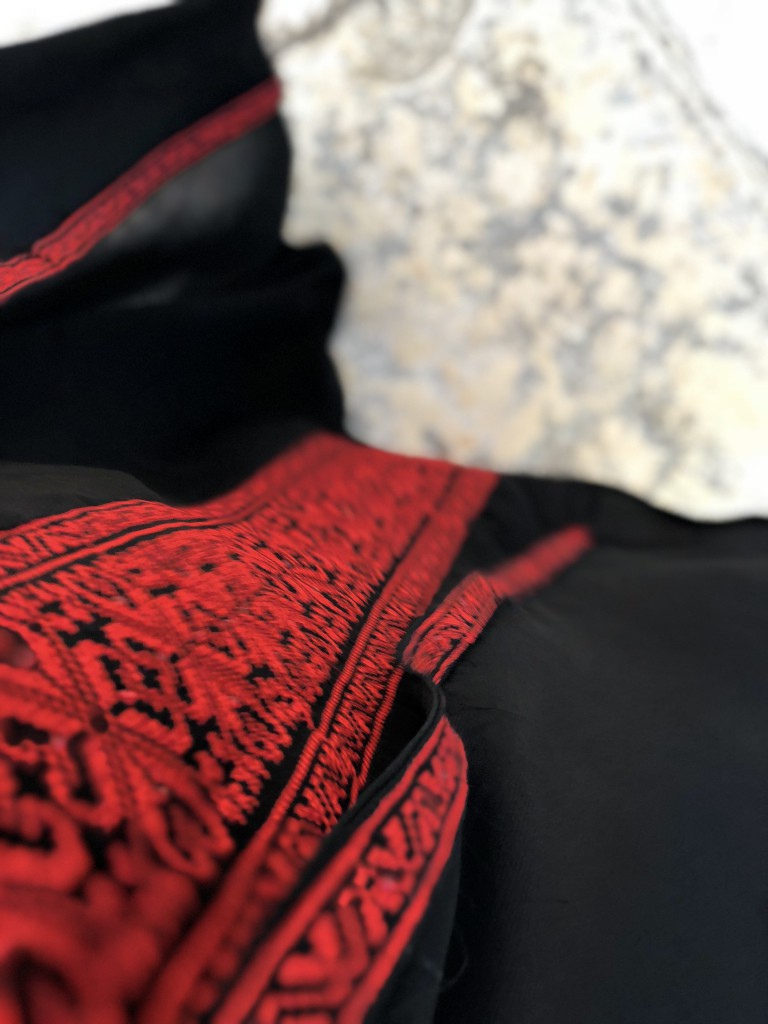 We completed our Eid salah and although tired (we literally got to the hotel a few hours before fajr the same day) we decided to take a walk around the Al-Aqsa compound and join in the celebrations. First, we headed to the banner that is hung on the arches outside the Dome of the Rock with everyone surrounding it and taking selfies. Families greeted each other, and children were entertained by various mini-shows where people dressed up as clowns and characters to put on a show to make the children smile. Balloons blown up in various shapes and sizes and popular character helium balloons handed out to make the children feel the celebration of Eid. As people with generous pockets were able to hand out toys while a mass of parents and children surrounded them in the hope to grab a little gift for their children.
Many of the parents really struggle to make ends meet in Jerusalem so every little joy that can be captured was important to them.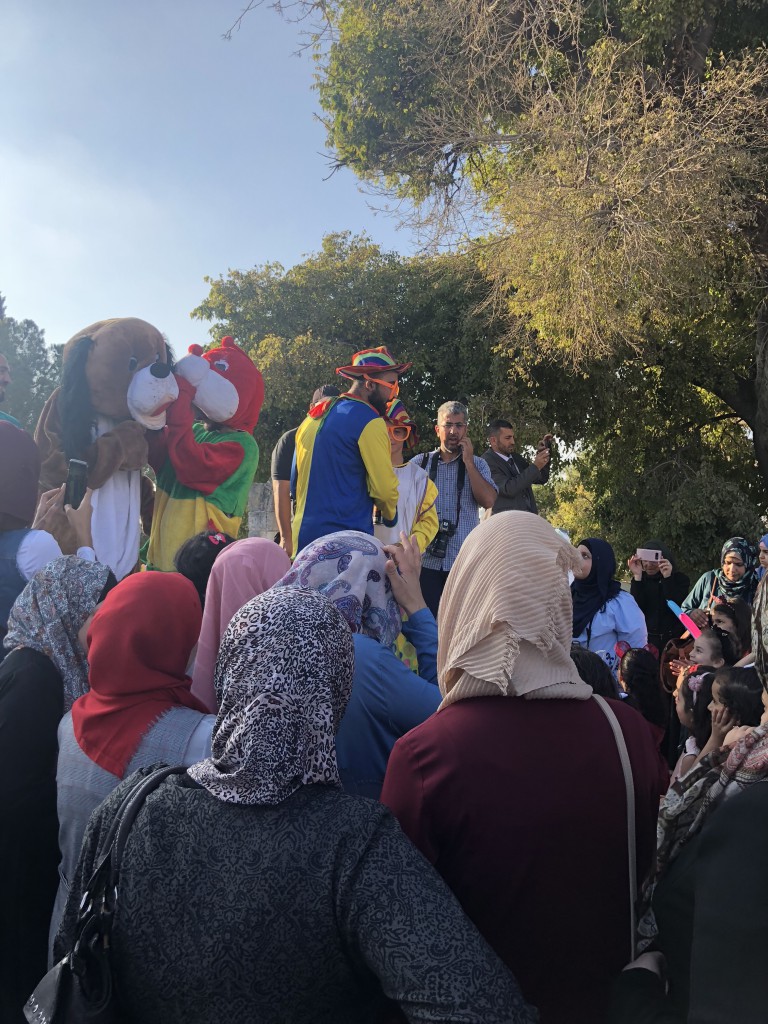 It is very expensive to live in Jerusalem as we found out later that week, when we visited a family in the Old City. This leads me to talking about the different types of people we met while out in Palestine and the different levels of suffering we encountered. I am going to start with the story of the family in Old City.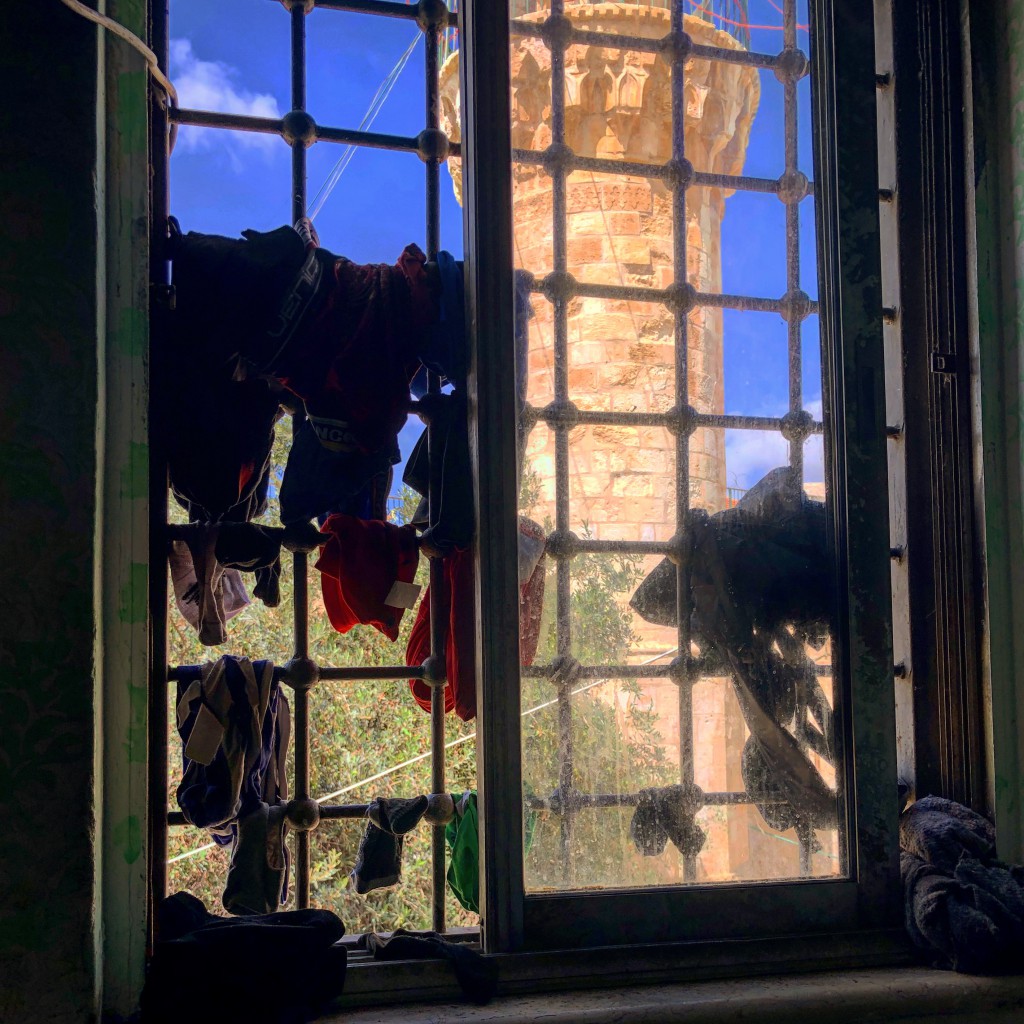 We followed our guide around the Old City in Jerusalem, if you have ever been to the Old City you will definitely not argue against the character and charm the city has, with winding cobbled footpaths and layers and layers of staircases to climb it definitely has the feel of being transported back in time.
We walked up to a stamp decorated staircase not knowing what to expect at the top. As our guide knocked on the door we were invited into a house where there were workmen wondering around fixing things and numerous random people walking around the little house actually flat.
The flat was a small living room with a wardrobe in the centre, two small sofa's a tiny television for some escapism, two bedrooms about the same size sleeping more than one person, one bedroom of five a father with 4 children, 2 with disabilities the mother had left as she could no longer handle the situation her and her family were living in, and the other bedroom slept 12 including grown sons who were under house-arrest and not being able to leave this tiny flat under any circumstances, the father had cancer and again some children had disabilities. A small bathroom and an even smaller kitchen. The rent for this miniscule flat was £500-£1000 ppm.
We had a look around a bedroom and were devastated to see the conditions they were living, as we made our away back into the living room the father came rushing up the stairs visibly distressed, our guide explained that he had just received an order to demolish the house as a fine had not been paid. We asked why he was being fined?
It turns out Palestinian who live in in Jerusalem are fined if any renovations are made on their property regardless of the circumstances. In this circumstance the boiler had exploded causing a massive fire in the kitchen and damage to the roof, which meant the family had to spend money for renovation to the flat, this resulted in a £2000-£3000 fine and if not paid interest is added on. This resulted in the family really struggle to make ends meet on a month to month basis. I requested if we can fundraise back home and send money to pay it off, only to be told that this won't solve the issue as the Israeli government will just add another fine, so it is a never-ending battle.
Watch my Instagram highlight for visuals: https://www.instagram.com/stories/highlights/17945973652165241/
They had been offered a substantial amount of money to leave the property and move elsewhere to Westbank (I will cover what these options are in my next blog). The family did not want to leave and were continuing trying to live through the slow torture being placed on them as a family.
The father explained his circumstances and broke down in tears as he explained how much he is struggling, and you could see he was totally broken as a human. It was heart-breaking to listen to his story.
There was a misuse of power in this situation to oppress people enough in order for them to give up their home and had it over to the Israeli authorities.
Around 420,000 Palestinians live in east Jerusalem, which was annexed and occupied by Israel during the 1967 Six Day War, a move not recognised by international law.
Most Arabs living in the city do not have Israeli citizenship: they instead hold permanent residency ID cards and are allowed to use temporary Jordanian passports for foreign travel. To date around 14,000 have had their Jerusalem residency revoked.
It is interesting to find out what is happening in East Jerusalem. Please read the accounts of Palestinians living in Jerusalem here:  https://www.aljazeera.com/indepth/features/2017/02/palestinians-east-jerusalem-battle-homes-170206090342735.html
I always advise people to read up on the history of the Palestine and Israel, what happened, the agreements and what happened thereafter as it is important to understand the political map in this region.
I have come to the conclusion that Palestinians (this includes the Muslim, Jewish and Christian communities) that lived in the region before the political tussle began are the ones who have suffered in this and continue to suffer to this day. Will a solution be reached? I pray to God it will. Do I have hope? always. Do I see it in the near future? I am not so sure.
If you're curious who I travelled with it was Zaarvel. You can read my blogs from my visits to Al-Aqsa here:
http://jeedajoseph.co.uk/how-to-help-the-people-in-jerusalem/