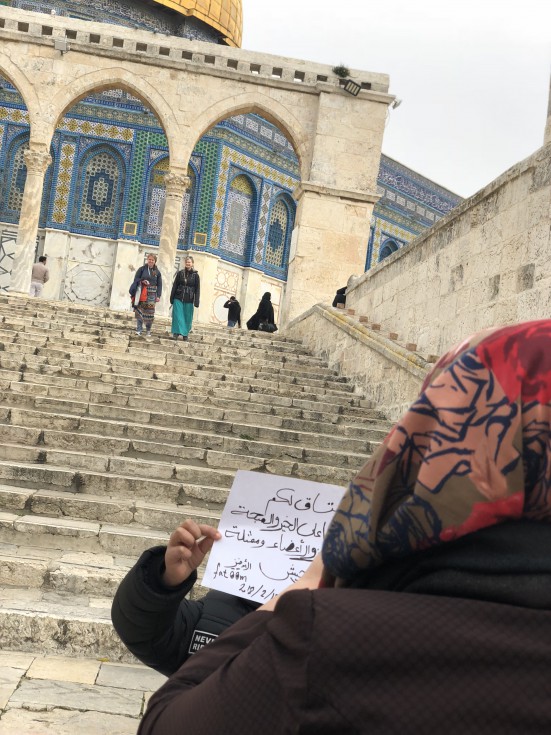 A rather poignant moment captured at Al Aqsa on my latest trip – A lady holds up a sign with names of people who are unable to visit the Masjid due to restrictions as others including us roam freely smiling, blissfully ignorant or maybe just unapologetic.
This is Fatoom and her son, she was holding up a paper with Arabic written on it and snapping a picture, I had seen many people do this around the compound the first time I went, this time my curiosity got the better of me and through broken conversation in Arabic and English, we managed to ascertain that the paper has names of her friend's and family, friend's and family that are unable step foot on the compound due to the restrictions placed on many Palestinians from visiting the place of worship.
Many argue restrictions are placed on people from both sides, the issue is the disproportionate difference in restrictions of movement placed to one group of people versus another. There have been many incidences that enable all parties to point the finger at each other. The reality is every single one of the Abrahamic faiths would agree that a loss of life is a travesty, yet it all continues in a vicious circle.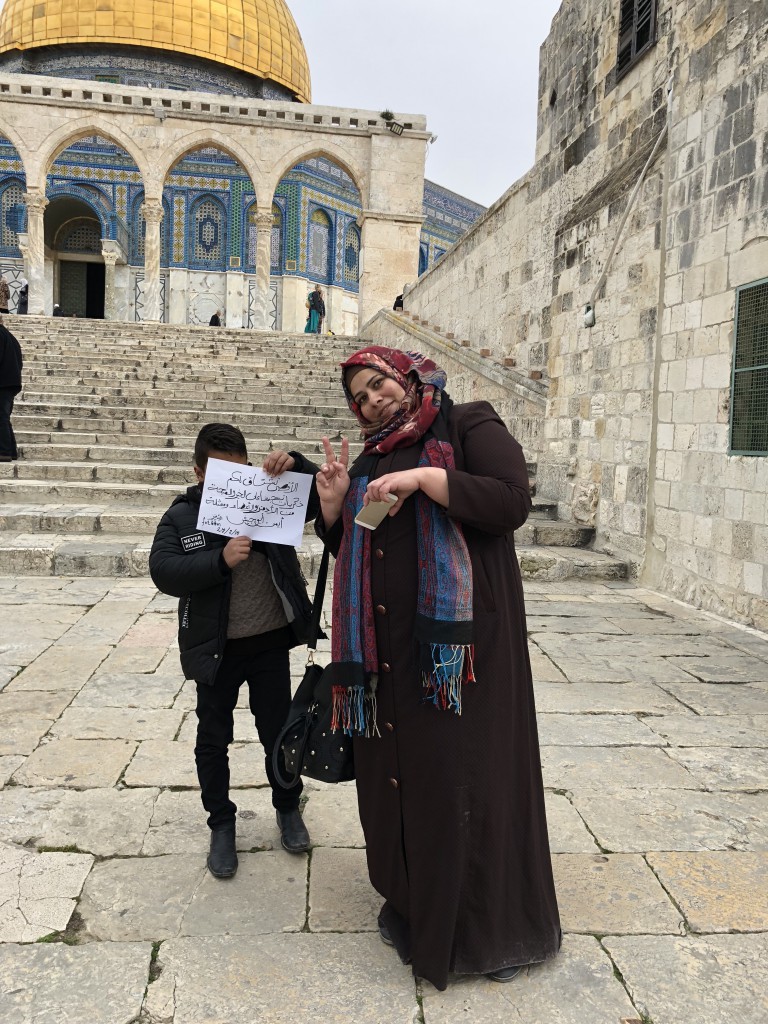 There is a distinct underlaying hatred that seminates throughout various quarters of the Old City and surrounding areas of Jerusalem (from all parties), one that leaves you feeling very vulnerable and with a feeling that you have very little rights, purely for the faith you choose to follow (I am sure this is felt by all not just a group). The constant badgering and goading for a reaction is as subtle as unbearable, sometimes you really do want to react and demand some respect (a human right) but the consequences are far too great to even request a little courtesy. This is a temporary reality for us who are simply visiting, for those who live there and have to move around a city as though they are unwanted guests in their own homes. I cannot imagine how much patience needs to be exercised, ultimately human life is far more important.
Praying for peace. Ameen
If you're curious who I travelled with it was Zaarvel. You can read my blogs from my visits to Al-Aqsa here:
http://jeedajoseph.co.uk/how-to-help-the-people-in-jerusalem/